I will be adding to this post over time, I have to get it started.
Youth often find direct communication about death and loss overwhelming for many, many reasons. Direct conversations are good, but sprinkle in stories and other kinds of content to help children experience a range of expressiveness. Here is a beginning list of youth titles, I will be adding child titles as well over time. If you know of any child or youth fiction that you would like to see added, please leave a comment or email me. Thanks!
Youth Fiction: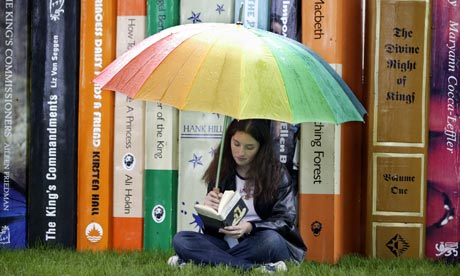 After by Francis Chalifour Fifteen-year-old Francis struggles to come to terms with his father's suicide.
The Truth About Forever by Sarah Dessen The summer following her father's death, Macy plans to work at the library and wait for her brainy boyfriend to return from camp, but instead she goes to work at a catering business where she makes new friends and finally faces her grief.
Under the Wolf, Under the Dog by Adam Rapp Sixteen-year-old Steve struggles to make sense of his mother's terminal breast cancer and his brother's suicide.
No Right Turn by Terry Trueman After three years of wanting only to be invisible, sixteen-year-old Jordan begins to recover from his father's suicide and start living again when a neighbor's vintage Corvette Stingray opens up new possibilities for him.
Tiger Eyes by Judy Blume Resettled in the "Bomb City" with her mother and brother, Davey Wexler recovers from the shock of her father's death during a holdup of his 7-Eleven store in Atlantic City.
Eagle Kite by Paula Fox Liam's father has AIDS, and his family cannot talk about it until Liam reveals a secret that he has tried to deny ever since he saw his father embracing another man at the beach.
The Outsiders by S.E. Hinton The struggle of three brothers to stay together after their parents' death and their quest for identity among the conflicting values of their society.
Silver Kiss by Annette Curtis Klause Only Simon, the young vampire who comes to her house in the middle of the night, can help Zoe overcome her brooding thoughts of her dying mother and her own loneliness.
Girl Death Left Behind by Lurlene McDaniel Numb with grief when an accident kills her entire family, fourteen-year-old Beth suddenly finds herself living with her spoiled cousin Terri and trying to make friends at a new school.
Shizuko's Daughter by Kyoto Mori After her mother's suicide when she is twelve years old, Yuki spends years living with her distant father and his resentful new wife, cut off from her mother's family, and relying on her own inner strength to cope with the tragedy.
Missing May by Cynthia Rylant After the death of the beloved aunt who has raised her, twelve-year-old Summer and her uncle Ob leave their West Virginia trailer in search of the strength to go on living.
Love,
Kim